Below you will find a sample of the attractions that have been offered in the Bream Creek Show. The 2022 show schedule is yet to be determined, but be sure that there will be plenty of attractions to interest everyone .
Matthew Evans
Fat Pig farm is home to Matthew, Sadie & Hedley Evans. Together they run a 70 acre farm where they live and nurture food from the soil to turn into great meals for the farmhouse table. They are passionate advocates of ethical and sustainable farming methods and strongly believe in knowing and trusting what you eat. Their philosophy : 'we do as we preach; growing and rearing as much food as we can for the table'. See and hear Matthew and Sadie on the Stage at 11.00 or at 1.00pm
Bream Creek Ironwoman Competition
The best rural athletes will compete for the honor of being crowned "the Bream Creek Iron Woman" for 2022. The competitors will complete a series of tasks on and around the arena between 1:30 and 2:00pm. If you think you have what it takes to knock the inaugural winner Helen Whittaker or last year's winner Ellie Taylor off their perch, then make sure you enter early to avoid disappointment.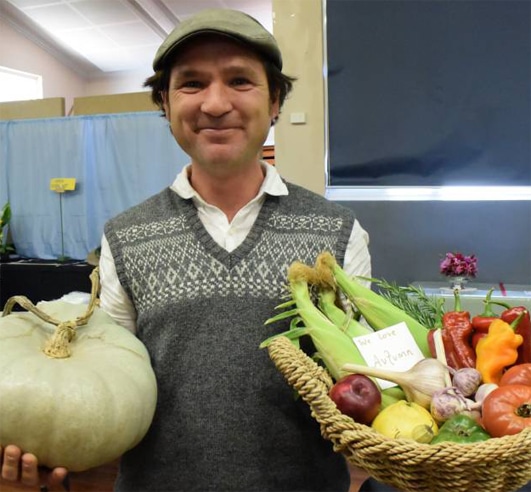 Tino Carnevale
Tino grew up on his family's small farm in southern Tasmania, helping to tend its vineyard, olive grove and extensive vegetable garden. As well as being a presenter on ABC Televisions Gardening Australia for a decade, he also writes a weekly column for The Mercury and also many articles for the Gardening Australia Magazine.
Don't miss your chance to learn what you can from him, Paddock to Plate Stage 12:00 to 12:30.
Paddock to Plate
This year the Paddock to Plate has relocated to the Stage, which is located near the Luncheon Room.
The schedule is jam packed with interesting presentations and demonstrations.
Presentations from local producers such as Jack Bignell from Bream Creek Dairy, Iain Field from Leap Farm and Tongola Cheese, Andrew Sinclair from Cape Bernier Winery, Ellie Emmett and Tom Gray "All About Oysters", Ellie Emmett, chef & author 'cooking lesser known fish species', Hellfire Distillery a 'spirited' cocktail demonstration. The TasTAFE Butchery School will also demonstrate sausage making, lamb and pork cuts and more.
Fat Pig Farm's Matthew Evans and Sadie Chrestman will combine with Tino Carnevale of Gardening Australia fame to talk about soil, compost, vegie production, growing and rearing food for the table. Plus, Matthew will also share with you his passion for sustainable and ethical farming on a small holding.
Jason Lowe's Snakes
Hi I'm Jason Lowe from JLo's snakes. A local from Wattle Hill I'm here to educate you on Tassie's three venomous snakes and our beautiful lizards. This year has been a good year for snakes. Most of us don't appreciate them however.
This is your chance to learn more about them and even reduce your fear of these fascinating creatures.
Hall of Industries
The Hall of industries represents everything that the Bream Creek Show is about. See competitors display their creations, from all types of cakes and savouries through to quilts, vegetables and fantastic flower displays. The kids also love to display their art and creative work. Don't miss this when it opens around 12.00 to 12.30.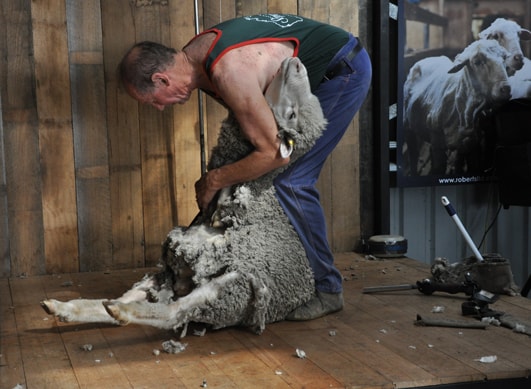 The Wool Pavilion
See shearing demonstrations and the Grand Champion Fleece on display. Fleeces are judged by Roberts Ltd Wool Classer Alan Chambers.
The Spinners and Weaver's Guild is also giving demonstrations all day ' showcasing their talents.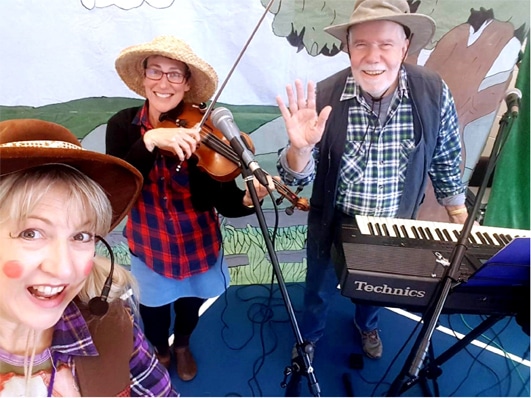 Make Believe on the Farm
Local entertainer Michelle from Sorell (Michelle Pears) brings her 3 piece band MAKEBELIEVE once again to the Bream Creek Show with an interactive program of games, original songs & nursery rhymes with a Tassie Twist. Delighting generations of Tasmanians over the past 25 years, don't miss your chance to join in with the fun of MAKEBELIEVE at the BREAM CREEK SHOW.
Look for them in the children's entertainment tent.